Tail Lifts

Weighing system for tail lifts
Type approved weighing system from POUL TARP A/S is specially designed for trucks using a tail-lifting system for weighing of picked-up and delivered goods such as cargo, forage, garbage, electronic waste, chemical waste etc.
The weighing system can be mounted on standard as well as a custom-made tail-lifts. The system can be adapted as required to fit the load cells and brackets on the existing construction of the lift plate of or a new lift-plate.
The weighing unit is user friendly and has functions which are especially designed for weighing of various products on the tail-lift. It is easy to enter details such as Customer No., Type of Product etc. and the Tara function makes it possible to weigh products placed in a container, cage, etc.
Specifications:
Weighing capacity: Max. 1.500kg

Accuracy: 1kg – each weighing

Approval: EN45501 - Can be used for account settlement

Water resistant (IP65) MWI weighing instrument with easy and simple functions

Digital weighing amplifier

Stainless steel and fully welded load cells

The weighing system can be connected to either a printer and/or a TOC II cabin computer for data collection and data transfer to and from the office
IT-Solutions for Weighing
Computer- and App solutions from POUL TARP A/S for registration and data exchange between the trucks and the office.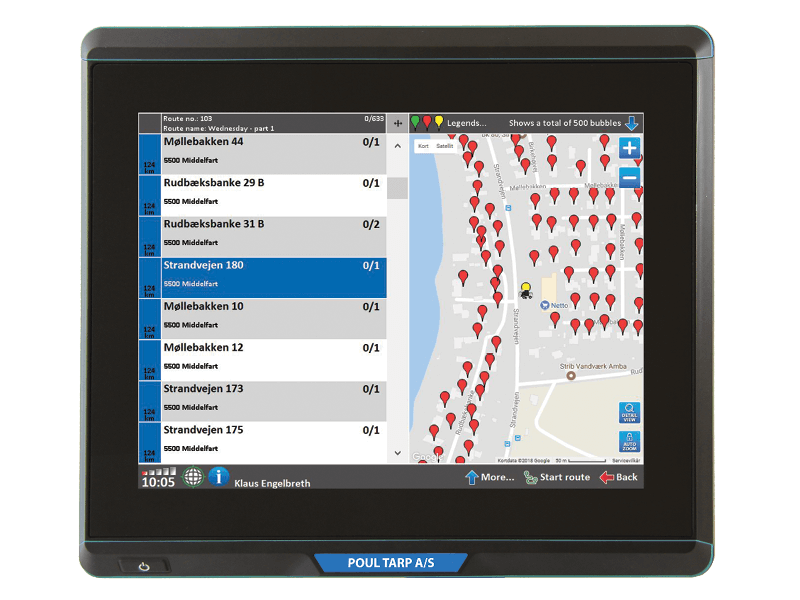 TOC Cabin Computer
The TOC cabin computer from POUL TARP A/S handles all data communication between the trucks and the office about routes, collection points and changes ect.

TARP Office - GTC
The TARP Office-GTC system from POUL TARP A/S is a special developed office- and administration system for route planning, collection- and analyzing of data.