Tail Lifts

Weighing System for Tail Lifts
The type approved weighing system from POUL TARP A/S is specifically designed for trucks using a tail-lifting system.
The Tail Lift weighing System can either be installed as a standalone solution with no external communication between vehicle and office or it can be expanded with a data communication solution that allows registrations- and weighing data to be communicated on-line between the vehicle, the office and the customer.
The Tail Lift weighing System is ideal for partial pick-up and delivery services that requires a weighing solution approved for Legal trade such as special cargo, feed, garbage, electronic waste, chemical waste etc.

Specifications:
Weighing capacity: 1000kg – or according to the tail lift's lifting capacity
Accuracy: 1kg / each weighing
Type approval: EN45501 - Can be used for Legal trade
The weighing system can be connected to a printer and a TOC cabin computer for on-line customer and route information
Add On:
APP solution for smartphone with customer information and display of product weight for the driver
Data collection via GPRS on the POUL TARP A/S internet server system WEB-LOG
Cabin computer which allows the driver to access route planning, customer and order information, and navigation to the next customer/locatio
RFID-registration of waste bins, waste cans, containers etc.
IT-Solutions for Weighing
Computer- and App solutions from POUL TARP A/S for registration and data exchange between the trucks and the office.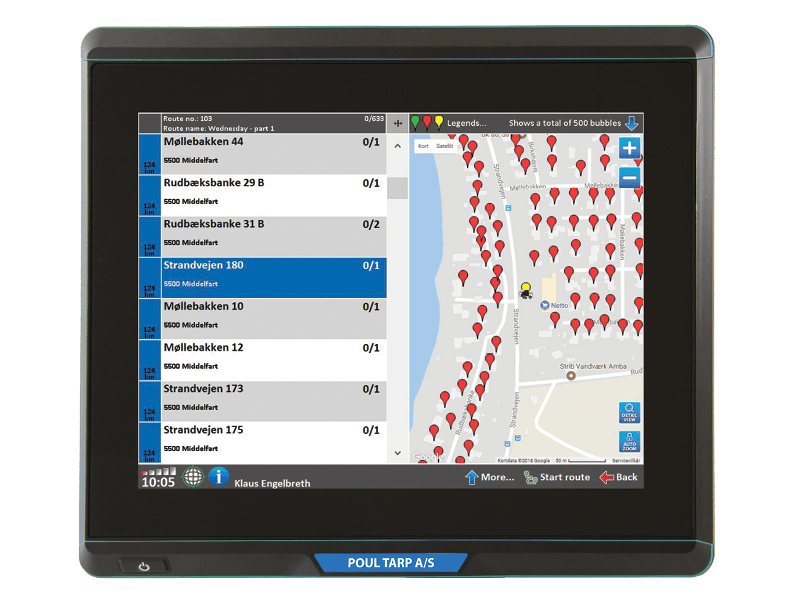 TOC Cabin Computer
The TOC cabin computer from POUL TARP A/S handles all data communication between the trucks and the office about routes, collection points and changes ect.

TARP Office - GTC
The TARP Office-GTC system from POUL TARP A/S is a special developed office- and administration system for route planning, collection- and analyzing of data.